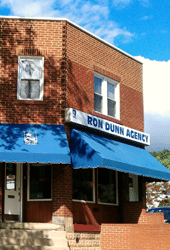 Established in 1981, the Ron Dunn Agency has excelled at serving the insurance needs of Western Pennsylvania for over 30 years. We are a proud representative of many insurance carriers as well as a full service brokerage. All staff members are highly trained in their areas of expertise bringing to the table a combined total of over 75 years experience in the insurance industry.
Insurance Solutions Group, The Ron Dunn Agency, LLC and The Zelasco Insurance Agency formed a partnership on October 1, 2015 to continue to provide our customers with outstanding customer service, to satisfy the growing demand of new insurance products and to make available state-of-the-art technology. All three agencies have a common vision and a shared management practice that puts our customers' needs first. This partnership, with its open mindset and facilitation, creates opportunities for our customers with various companies and products for all your insurance needs including; Home, Auto, Commercial, Life, Health and Annuities.
We pride ourselves on the small town feel of a local agent with the technologies and conveniences of the modern day world.
Whether you're looking for a local agent to discuss your policy or to bypass the confusing automated systems of large firms, the Ron Dunn Agency can customize our service to fit your specific needs.